L.H. Corp.

specializes in high precision machined parts made to customer specifications.

Incorporated in 1989 in Virginia, L.H. Corp. capitalizes on the industrial experience of its people. With linguistic capabilities including German, French, Italian, and Spanish, we are well suited for business with foreign companies and their specific requirements.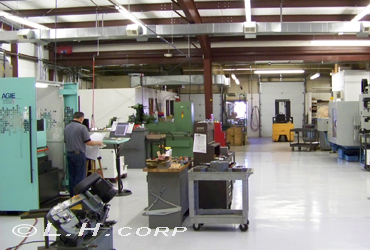 Our manufacturing facility - greatly expanded in 2004 with new offices and production space - is located conveniently near Interstates 81 and 77.
We are proud of the latest in Wire-EDM and CNC machine tool equipment as well as our full CAD/CAM system. And we operate to ISO 9002 standards.
Among our customers are leading name brand manufacturing companies for whom we have made both replacement as well as production OEM parts. We can handle sophisticated corrosion and wear-resistant alloys and specialty steels as well as plastic materials.
"L.H. Corp. is dedicated to maintaining highest quality standards and customer satisfaction."
Clemens von Claparède-Crola, President