Quality Control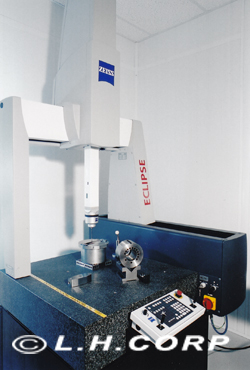 As mentioned above, we work according to the requirements of ISO 9002. We are not directly certified but have won approval through the vendor certification programs of our various ISO 9002 customers.
According to ISO 9002, we address all basic steps from Order Acknowledgement and Contract Review, to Traceability and Job Documentation. Our measuring instruments are calibrated in house through the CMM, which is calibrated to INS standards.
The CMM is kept in a separate temperature controlled dust free room. Many of our customers require Certificates of Conformance or full Inspection Reports, or even both.
Our CMM provides print-outs of measurements obtained, which are attached to our inspection reports and kept on file with each job.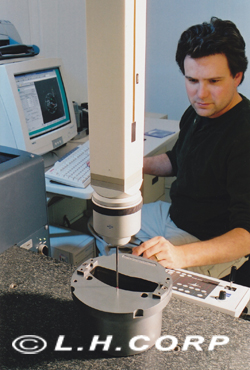 Material certs, where requested by customers, are obtained from the mills and kept together with the job documentation. Heat treating certificates and test results, where applicable, are part of the job documentation and traceability.
At L.H. Corp. we do not use statistical sampling as our typical job lot is for small quantities, which require 100% inspection, throughout the manufacturing process, including a first part inspection by other than the operator.
As said before, we strive to achieve the highest quality and customer satisfaction. This is essential for the long term customer relations we prefer.